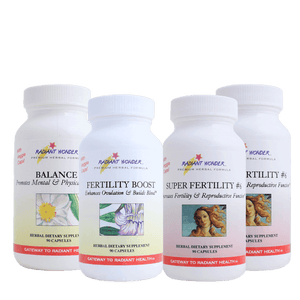 Note from Radiant Wonder
We no longer manufacture this product. Below you'll find a link to a high-quality product alternative - personally researched and approved by Amanda. We do not profit from purchases made from these suppliers. We want to make sure you have the best quality herbs you can trust for your healing journey.
Link to Recommended Product (Balance)
Link to Recommended Product (Fertility Boost)
Link to Recommended Product (Super Fertility #6)
About this Product
Your Fertility Specialist may have taken tests which show you have normal hormone levels, yet month after month you aren't getting pregnant. The good news is we are experts at helping women who were just like you and who are now happily pregnant. In Traditional Chinese Medicine, we call it "very close to being fertile," and we have found that it can be one of the easiest issues to resolve with Chinese Herbalism.