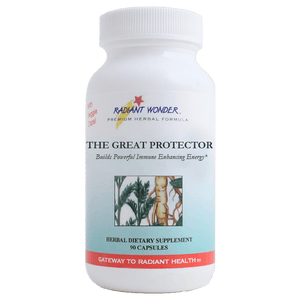 For asthma in remission; powerful lung support
Supports immune system
Benefits the upper respiratory system
Helps to protect from germs in public spaces or events
Assists in generating vital energy
Enhances lung function
The Great Protector is another formula which strengthens and protects the lungs. It is good for anyone who has repeating colds which settle in the lungs. It is recommended for those with chronic asthma; not for the time of an asthma attack, when it is best to be working with your Western doctor, but for those times when the asthma is in remission. The Great Protector is even safe for children as young as six years of age (in smaller doses, of course). A chronic respiratory problem is more than a minor annoyance. It is the first step in a weakening of the body's protective defense against other intruders. The power gained with The Great Protector is cumulative. You may notice a bronchial attack was not as severe. Maybe you got the cold you hoped would miss you but the sore throat was not as bad and you did not lose your voice. The strength continues to build safely and steadily. When your lung energy is weak it affects your entire life. You simply do not have the energy you need. The Great Protector is not an over-the-counter drug with dramatic, immediate effects, combined with numerous side effects such as drowsiness, impaired motor functioning, or impaired functioning of the liver or kidneys. This is a formula that brings you back to an energy level, strength, and sense of vitality you thought was a thing of the past. No longer is there a sense of things slipping away. A strong immune system comes hand-in-hand with renewed energy, reserves clarity of mind, and a sense of purpose in life.
Ingredients
White Atractylodes, root
Siler, root
Astragalus, root
Vegetable Capsules
Customer Reviews
12/16/2019
diana

United States
A life saver for my lungs. I had issues with asthma for years.
Thank you again. I must say the combination of the herbs for my lungs have really been a life saver. I am so grateful for these herbs from the earth and from your husband and from you and your company that make it all work. I am very grateful to have you as a good friend. Take care!! I have not been sick yet this year and no flu shot!!! YEAH!!! I better knock on some wood. LOL.
01/26/2020
Radiant Wonder
Thank you, Diana. You are an amazing woman and we appreciate your support. :)
I love your products. My patients notice rapid results with no side effects. Your company is a shining star in the world of Traditional Chinese Medicine, showing that the wisdom of the ages.
Your products are superior. So glad to have found Radiant Wonder.