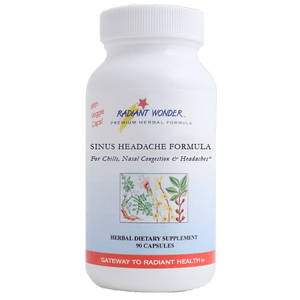 Relieves the intense pain of sinus headache
Breaks up sinus headache
Helps one to think more clearly
Opens nasal passages
Tired of chronic sinus headaches at certain times of the year? Radiant Wonder's Sinus Headache Formula can help eliminate these aggravating occurrences, allowing you to breathe more freely and think more clearly.

Here are some simple steps toward relief from sinus headaches: If you're just beginning to get a headache, start using Sinus Headache Formula right away. Take 2 capsules every half hour for the first 3 hours or until the headache breaks. If the headache becomes less severe but you still have it, then continue with 2 capsules twice again the same day.

Stop the formula as soon as the headache stops.

For prevention during the headache season, take Sinus & Nasal Congestion everyday (2-3 capsules twice daily) and do a Healing Nasal Wash once a week. This combination will greatly reduce or completely eliminate the headaches for that season.

What if you could say goodbye to headaches forever?
Take Radiant Immune Defense every day during the year and by next season you should see dramatic results!
Ingredients
Cyperus, rhizome
Cnidium, root
Notopterygium, root
Siler, root
Schizonepeta, herb
Angelica Dahurica, root
Mentha, herba
Green Tea, herb
Licorice, root
Vegetable Capsules
Customer Reviews
Sinus Headaches had been part of my life for years. This formula is the best thing I every found. I live where the "corn is as high as an elephant's eye". Every weed is just as big. Try it, it works!