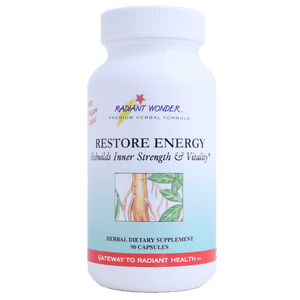 Benefits lungs, energy and beautiful skin
Great Adaptogenic herbs
Relaxes tightness in the chest
Generates sexual fluids
Moistens skin
Moistens the lungs
Builds inner strength & vitality
This remarkable formula is designed to support the body's function in multiple ways. Restore Energy strengthens the lungs, improves breathing, builds sexual fluids, helps the skin retain moisture, and calms the restless heart and mind.

This formula is a combination of 3 very special herbs: Pseudostellaria root, Ophiopogon root and Schizandra berry.   When most herbalists use this combination, they use Ginseng root instead of Pseudostellaria.  We find that Pseudostellaria is much gentler and thus more effective.

Restore Energy can bring miraculous results if used consistently. It also may relieve shortness of breath, breathing difficulties, chronic dry coughs, and severe fatigue.  How can it affect so many things?  Because it helps the body generate the moisture it needs to stay flexible and healthy.

Restore Energy is a great formula for summertime when you may sweat excessively. It is also great if you live in a dry climate because it replenishes body fluid while it rebuilds strength. Too much dryness weakens your energy.

Restore Energy is so gentle that it is safe for the weakest constitution. However, this very simple formula (only 3 ingredients) is one of the most effective of all the ancient formulas. It is perfect for today's lifestyle.
Ingredients
Pseudostellaria, root
Ophiopogon, root
Schizandra, fruit
Organic Brown Rice, powder
Vegetable Capsules
Customer Reviews
This formula gives me so much energy. I don't get hyped up, I just take 2 with breakfast and it just seems to lift my whole morning up.
Heat zaps my energy. Restore Energy protects me. I can keep energy and my focus.