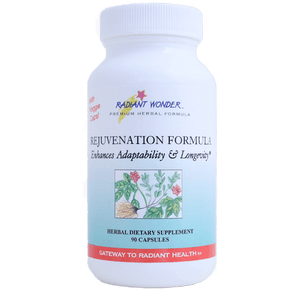 Deeply nourishing recovery formula.
Restores healthy menstrual cycle
Supports increased sperm count and motility
Builds blood and energy
Builds strong nails and full hair
Supports the adrenal system
Our popular Rejuvenation Formula is designed with Ho Shou Wu as the lead herb. Rejuvenation is one of the most famous formulas for recovery. The perfect formula to help you recover from an operation, from a miscarriage, from being exhausted.

Rejuvenation Formula has been treasured by men and women of all ages, as it is famous for rebuilding energy and blood. It is also very popular among men and women to enhance fertility. It has been shown to significantly increase sperm count and sperm mobility. Women choose this formula to take after childbirth. It is a powerful formula to help recovery from a miscarriage. Women find it helpful in maintaining proper menstrual rhythm and in preventing anemia, both of which are essential to a woman's health and fertility.

Rejuvenation Formula is also perfect for recovering from an operation. This product improves adaptability and is a superb anti-aging and rejuvenation formula. A favorite long-term formula for seniors.
Ingredients
Ho Shou Wu, root
Dong Quai, root
Eleuthero, root
Rehmannia, prepared root
Mature Citrus, peel
Jujube, fruit
Licorice, root
Organic Brown Rice, powder
Vegetable Capsules