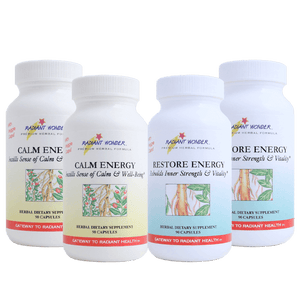 We understand why you could have palpitations even when the doctor says there is nothing wrong; Your palpitations may actually be linked with anxiety. According to Chinese Medicine, anxiety is not mental, but physical. You may have experienced high amounts of stress in your life. You and your mind have figured out how to recover, but what about your body? It is still carrying the accumulation of stresses and trauma. This is what is causing the heart to have palpitations. We've worked with many others who were once in your position. We want to help you awaken the natural healing mechanisms of your body so that you too, may live free of palpitations.

We invite you to learn more about how Radiant Wonder can help you re-balance and heal your body and mind.

Click here to read more about unexplained palpitations.
Codonopsis, root
Rehmannia, prepared root
Dong Quai, root
Salvia, root
Zizyphus, seed
Platycodon, root
Scrophularia, root
Asparagus, root
Ophiopogon, root
Polygala, root
Poria, mushroom
Coptis, root
Schizandra, fruit
Organic Brown Rice, powder
Vegetable Capsules
Restore Energy
Pseudostellaria, root
Ophiopogon, root
Schizandra, fruit
Organic Brown Rice, powder
Vegetable Capsules