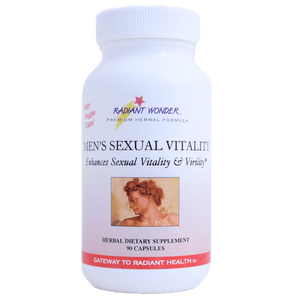 One of the greatest ancient sexual vitality formulas
Supports sexual power and endurance
Increases sexual fluids
Energy tonic for men
Supports focus & a sharp mind
Men's Sexual Vitality is one of the greatest of all the ancient male sexual vitality formulas. This is a famous rejuvenation formula bringing back the endurance needed for a satisfying experience. This formula empowers sexual energy while also nourishing and rebuilding the body's energy reserves and sexual fluids. The benefits of this formula extend beyond sexual vitality. It is said that if used for 100 days successively, Men's Sexual Vitality will purify the blood, sharpen the mind, and open the heart. For more dramatic results, this product can also be taken in combination with our other men's formulas: Ho Shou Wu and Men's Virility Formula. The combination of these three products restores not only the fire but also the fuel — the deep energy reserves needed for powerful, fulfilling sexual relations. Once you have taken all three for three months (100 Days of Cultivation), your body will become strong enough that you will find great results with smaller doses. Recommended dose: 3 capsules twice a day for the first 3 months, then 2 capsules twice a day. This formula is taken daily as it enhances and protects sexual vitality.
Ingredients
Eleuthero, root
Lycium, fruit
Jujube, fruit
Schizandra, fruit
Ginseng, root
Cistanche, herb
Cornus, fruit
Acorus, root
White Atractylodes, root
Eucommnia, bark
Rehmannia, prepared root
Morinda, root
Achyranthes, root
Poria, mushroom
Dioscorea, root
Polygala, root
Organic Brown Rice, root
Vegetable Capsules
Customer Reviews
Good news! Not only do I feel my *** drive returning, but I feel mentally sharp and have more physical energy.