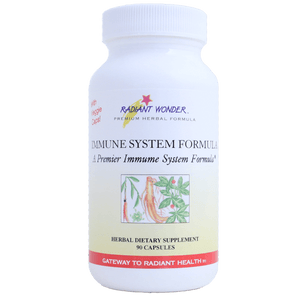 Gentle recovery for weakened immune response
Rebuilds a weakened immune system
A famous recovery herb for recurring immune issues
Helps maintain proper immune system function
Immune System Formula has a unique and special place among the immune builders. It is for those who are weakened not by one attack of colds, the flu or allergies but for repeated bouts against the attackers. The whole energy of the body has been knocked down enough that it takes a special formula to bring it back to normal. It is perfect also for older people who have had a rough cold and flu season or someone who is recovering from an operation. This is one of the most famous immune builders in all the Chinese herbal formulas. You can see by the ingredients that this is something different. This formula is perfect for those who have had long term or chronic immune issues. Chinese medicine sees the body as surrounded by a protective shield. When you get sick that protective field is penetrated and you have to fight off the pathogen. However, if you get sick too many times or the sickness is very severe or chronic the pathogen actually penetrates the body itself. So, you need a formula that is very gentle and can not only protect you but also gently repair the inner damage. This is that formula used for hundreds of years to gently nurture the body back to health. Immune System Formula also is unique in that it is very beneficial for the liver and gallbladder. Traditional Chinese Medicine considers proper functioning of the liver to be critical to maintaining a healthy immune system. So, if you have liver or gallbladder issues this might be the best immune support formula for you. This is a favorite immune formula for those with infertility. The use of Immune System Formula can help your body get the deep nourishment it needs to bring itself back to dynamic activity and healthy functioning again. Radiant Health is the greatest gift you can give yourself. What can possibly be more important than how well you feel every day?
Ingredients
Bupleurum, root
Pinellia, root
Ginger, root
Ginseng, root
Scutellaria, root
Jujube, fruit
Licorice, root
Organic Brown Rice, powder
Vegetable Capsules
Customer Reviews
I am 66 years old and have been taking Immune System Formula with Restore Balance for about 6 months. I have more energy and just feel better. I take 2 of each twice a day. Also, lots of people have been sick this winter and I just never get sick anymore.
For 30 years I've had life-threatening allergy to cats. After one year on the Radiant Wonder products, cats are now a wonderful part of my life.
There are a lot of products on the market, and I've tried a lot of them. One day while looking for yet another product to try, I came upon the Radiant Wonder site. I placed an order a to my utter surprise, after a couple of weeks of use I started to feel more alive than I had felt for a long time. I have continued using the Immune System Formula and started my children on the Children's Immune Defense to help build up our immune system. I have gained a lot from Radiant Wonder products, including keeping my family free from colds and flu last winter.
I use Radiant Wonder herbal formulas for all my cold and flu issues. I have saved hundreds of dollars in over-the-counter drugs I used to buy. I might be considered a little over the top, but I use Radiant Immune Defense or Immune System Formula (I switch them out from time to time) all year round and have found I get sick far less often and even my allergies have subsided. I would strongly recommend anyone who gets sick with colds every winter to stock up with Radiant Wonder products. They're the best.
No more allergies! No more constant colds! I have my life back!