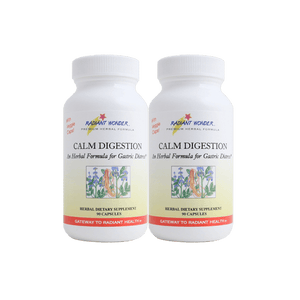 We can all get gas or bloating if we have overeaten or indulged in rich food, alcohol etc. For those moments in life Calm Digestion is an absolute miracle. Also as we age the ability of the digestive system tends to weaken. Older people find that smaller meals are much easier to handle. Calm Digestion is so gentle and safe it can be taken after every meal.
In today's world people of all ages eat (or drink) a tremendous amount of cold food (cold drinks ice cream cold juice cold water). According to Chinese Herbalism a strong digestive system is critical for maintaining high energy levels in activity. The digestive system does not like cold. It likes warmth. The digestive ''fire'' is extinguished with too much cold. The digestive process becomes sluggish and weak. Even a small amount of food causes bloating. The gentle warming herbs in Calm Digestion help to balance the sluggish ''cold'' digestive flow that comes eating too many cold foods and drink. For any of the above reasons Calm Digestion is very good friend helping the digestive system to do its job.
Calm Digestion quickly and dramatically eliminates symptoms of bloating or gas. It is the basic formula to take for food stagnation caused either by overeating or by a weak digestive system. It can also be used for almost any kind of indigestion and even motion sickness.
Cratageous, fruit
Poria, mushroom
Massa Medicata, root
Coix, seed
Pueraria, root
Red Atractylodes, root
Agastache, leaf
Magnolia, bark
Organic Brown Rice, powder
Mature Citrus, peel
Oryza, rice sprout
Trichosanthes, root
Radish, seed
Jujube, fruit
Mentha, herb
Chrysanthemum, flower
Angelica Dahurica, root
Saussurea, root
Vegetable Capsules