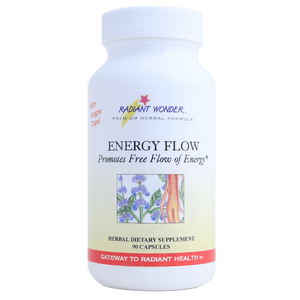 Supports a healthy heart and nervous system
Supports a healthy cardiovascular system
Relieves stress for those who experience anxiety and worry
We live in a country where cardiovascular disease is the chief cause of death and disability in the United States. Besides doing your part everyday (exercising regularly eating well) you can also take our Chi Flow which contains one of the most heart-nurturing herbs in the world Salvia known in Chinese Herbalism as Dan Shen. According to Chinese Herbal theory one of the primary causes of cardiovascular problems is what is called ''blood stagnation'''. Blood stagnation is when physical and mental stress creates impediments to the normal flow of blood. The Chi Flow helps to safely and gently release the stagnation.
Ingredients
Salvia, root
Ligustrum, root
Dong Quai, root
Crataegus, leaf
Notoginseng, root
Gynostemma, herb
Organic Brown Rice, powder
Vegetable Capsules
Customer Reviews
I love Energy Flow. It totally smooths out my mood. I can feel the effects in a few minutes. Amazing product.
My triglycerides are finally falling since I started taking Energy Flow. I also find a difference in my workouts. I really feel better when I take Energy Flow in the morning before I work out. I seem to have more energy and also feel better when I finish! Nice side benefit!!!!