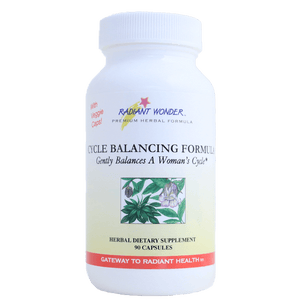 Helps to regulate your cycle
Alleviates symptoms associated with PMS
Builds energy and decreases fatigue
Balances fluctuating emotions
Cycle Balancing Formula is used to renew your blood and regain your energy while allowing the body to promote a regular period. In addition, it improves digestion which is key to generating blood in the body and uterine lining.

This special formula can be taken alone or with the Cycle Balancing Program which is designed to help balance the menses and reduce PMS symptoms. It is important if you have cramps to be taking Peony and Licorice, a formula which helps to relax the muscles of the uterus.
Ingredients
White Atractylodes, root
Cyperus, root
Poria, mushroom
Bupleurum, root
Albizzia, Bark
Finger Citron, fruit
Dandelion, root
Moutan Peony, bark
Prunella, flower
Licorice, root
Mentha, herb
Organic Brown Rice, powder
Vegetable Capsules