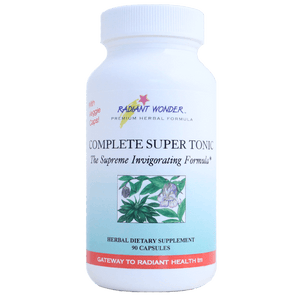 Builds energy, sexual vitality, fertility
Boosts fertility and supports hormonal balance
Energy and blood tonic
Supports a healthy immune system
Strengthens digestive system
Supports muscles during intense workouts
Complete Super Tonic is widely regarded as one of the greatest builders of energy and blood and warmth. Its Chinese name is Super Pill. Many different people, both men and women, can benefit from this special formula. It is great for body builders because it helps the body nourish and develop new muscle tissue. It is a very popular tonic for women because of its blood nourishing qualities which reduce the risk of anemia and fatigue associated with blood deficiency. Men and women can use it to overcome fatigue loss of appetite and dry skin.

Everybody function depends on the best quality blood nourishing all the cells. So, it is easy to see how a powerful blood builder like Complete Super Tonic can be used for so many different issues.
Ingredients
Codonopsis, root
White Atractylodes, root
Dong Quai, root
Poria, mushroom
White Peony, root
Licorice, root
Rehmannia, prepared root
Ligusticum, seed
Astragalus, root
Cinnamon, twig
Organic Brown Rice, powder
Vegetable Capsules
Customer Reviews
I'm a single mom with 2 boys. I work in a cafeteria on my feet all day. I started taking Complete Super Tonic and after a month I didn't think it was working. Nothing seemed to have changed. I would come home and my boys would want to go to the park. I would go but all I could do was sit. I couldn't even push them on the swings. I called the company. They said give it another month. If it didn't work they would take care of me. So I kept going. Honest to God, one week later something happened, and I didn't even notice it right away. The boys were with their Dad. I came home and decided to paint their room. I rearranged the furniture and painted all the walls. Put in a load of laundry. And then started dinner. All of a sudden I realized what had happened. Where did that energy come from? I didn't call Radiant Wonder for another week because I wanted to make sure it was going to last. I love these people and I love their products. They are so caring and honest.