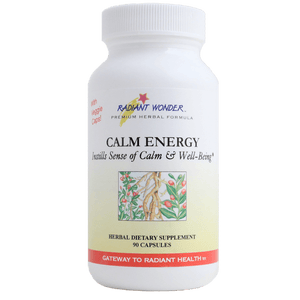 Increases both energy and calmness
Reduces stress and fatigue
For those with excessive worry and anxiety
Supports a good night's sleep
Calm Energy increases energy and calmness at the same time. If you want more ease in dynamic activity, Calm Energy is one of the most remarkable ancient formulas ever developed.
It is truly double directional as it strengthens two seemingly opposite functions: energy and calmness.
The ingredients in Calm Energy have been used for centuries for many conditions as diverse as irritability, palpitations, anxiety, extreme fatigue, inability to concentrate, nocturnal emissions, forgetfulness, depression, dry stools, canker sores, night sweats, and reduced body fluids causing headaches or hypertension.
Calm Energy is a fabulous formula for anyone whose life involves intense mental focus– students, doctors, creative writers, parents, computer programmers, great thinkers, and entrepreneurs. In Traditional Chinese Medicine, this formula supports the ability to think clearly.
When the body is centered and calm, we can work with a quality of restful alertness–energetic, yet calm.
Ingredients
Codonopsis, root
Rehmannia, prepared root
Dong Quai, root
Salvia, root
Zizyphus, seed
Platycodon, root
Scrophularia, root
Asparagus, root
Ophiopogon, root
Polygala, root
Poria, mushroom
Coptis, root
Schizandra, fruit
Organic Brown Rice, powder
Vegetable Capsules